Disclosure: This post contains Affiliate Links, meaning if you click a link and purchase a product from that link, I may earn a small commission at no additional cost to you. Please check out my Disclosure Policy for more details.
Want to up your game with a green home and save our planet but not sure where to start? I've got you covered with some easy budget friendly ways to start the transition in your home and mindset to being green and save some green in the process!
Having a green home is all about your mindset – think "Reduce, Reuse, Recycle" in everything you do or buy. Convenience may be enticing, but is usually not very green. One of the biggest impacts your can make to reduce your carbon footprint at home is to reduce the amount of 1-time use products in your home.
Wool Dryer Balls
One of the first shifts I made to transition to a greener, less wasteful home was to ditch the dryer sheets for natural, organic and hypoallergenic wool dryer balls. You can now find these easily on Amazon and even Grove Collaborative!
These are a great way to get the wrinkles out and reduce static NATURALLY.
You can also give your linens a fresh scent by dropping a few drops of your favorite essential oil on each ball every few loads. I love putting lavender on mine, my clothes, towels and sheets come out smelling amazing! Then I just leave the balls in the dryer for the next load.
Thanks to these little guys, I have not had to buy dryer sheets in 2 years!
Even for a smaller household like mine, where we only do around 300 loads a year (about 3 boxes of 100x Free& Clear hypoallergenic dryer sheets at $8.50 each), this one time purchase of around $10 saved me money in just the first year! If you were to add it up, I have saved $41 over the last 2 years since switching. YAY!
Hand Soap Dispenser
Buy hand-soap in bulk, and refill a glass soap dispenser by all your sinks. It not only looks nicer than those plastic dispensers that also fill up our landfills but it will save you money in the long run. I like to pick out pretty decorative dispensers to go with the motif of each room, you can usually find some cool options at Home Goods and Ross among the miss-matched bathroom stuff. Or you can opt for something more universal to any decor like this cute Mason Jar Soap Dispenser.
To fill up your soap dispensers, I really like Grove Collaborative's Gel Hand Soap. It comes in a recyclable pouch, reducing your waste, and of course is free of harsh chemicals.
Silicone Kitchenware
Forget buying an re-buying plastic wrap, foil, parchment paper and bags. Opt for re-usable silicone bowl covers, baking mats and food bags instead.
I only just recently bought these silicone stretch lids for my kitchen, and OMGEEE I LOVE THEM. I especially love that they are microwave safe (yay no sauce splatters!) and dishwasher safe (woot woot!). Unlike plastic wrap, once you seal these on your glass dish, they don't leak! My only complaint is that once you pull them off, the condensation can make it difficult to re-seal, so you need to wipe them and the rim of the dish down to absolute dryness before you can get a good seal again (if you aren't using up all that you were saving).
This is a great set of 3 Non-Toxic, BPA Free premium grade silicone Baking mats. You get 2 sizes which is super handy, and they are even marked with measurements making it easy to roll out dough to a specific size or space out baked goods evenly. We have found that even roasting veggies on silicone mats turns out delicious and you can use so much less oil since nothing sticks to these! Not even melty, burned on cheese (my personal pet peeve when washing pans).
I just hate how much needless plastic is thrown away by every household (including mine) with the use of zip top baggies. I have been known to rinse and re-use my gallon size freezer zip top bags, but actual reusable non toxic silicone bags makes me happy. And they even double as Sous vide bags! Whoop!
Reusable Shopping Bags
Ok, this is a given, and hopefully you already Re-usable shopping bags if you aren't already – get with the times!! Plastic shopping bags are already banned state-wide in California and Hawaii in the U.S. and in dozens of countries and 100s of cities globally. It's only a matter of time before the rest of the world catches on to the incredible damage these bags are doing to our ecosystem. Did you know single use plastic shopping bags take 10-1000 years to decompose and over 8 million metric tons of plastic enter the ocean every year.
The good news is reusable (and cute!) reusable grocery shopping bags are super cheap and easy to find. Try about every checkout line in any store… But you can also order a bunch online. I really like these Nylon bags. They fold up into a tiny pouch you can carry around in your purse, so you are never without them! They come in SO handy.
I have tendency to order personalized shopping bags for myself and my family every time Shutterfly or ThirtyOne Bags has a sale.. lol. They just make such good gifts. Pictured above my latest creation I made for my Mother-in-law.
Buy in Bulk
Many grocery stores like Sprouts offer a wide variety of non-perishables like beans, rice, cereal, nuts and even baking products like sugar & flour in large barrels where you can scoop up and buy what exactly what you need. Its not only more economical, but there's no wasteful packaging.
Large mason jars can be bought fairly cheaply in cases and can store your goods for a long time and keep them fresh!
Re-usable K-Cups & Cold Brew
If you have a Keurig, you are familiar with how expensive those K-cups can be. Buy your favorite coffee in bulk, and brew a fresh cup using this nifty re-usable k-cup.
You will want to double check what size fits in your specific machine, but this is a easy swap for those little plastic cups you end up throwing away every day.
I have an older version of this model. It has a nice water reservoir so you don't have to refill the water chamber for every cup like the smaller machines. You can also program it to turn on/ff at specific times so you don't have to wait for the machine to warm up when your ready for that first cup!
Not a fan of hot coffee in the heat of the summer? Not cool with watered down iced coffee? Switch from your Kuerig to a Cold Brew Coffee Maker for your refreshingly cold coffee needs! Its incredibly delicious and still eco-friendly.
After much research, this is the Cold Brew Coffee Maker I bought… for my Mama for Mother's day last year. To my awesome surprise, she bought ME the SAME THING! We had such a good laugh about it. We both had the same idea and researched and ended up purchasing the same brewer.. for each other!
There are actually many benefits to switching to cold brew coffee in addition to the eco-friendliness of the fact that it doesn't require electricity or filters. Cold Brew makes delicious and strong iced coffee that is also less acidic and therefore SO SMOOTH and easier on your tummy. I use half as much creamer with my cold brew because its that much tastier.
Reusable Water Bottles
Water bottles are expensive, unsafe for your health and terrible for the environment. It blows my mind how often I see people buying pallets of water bottles from Costo… WHY?!! Don't buy water bottles…. seriously… there are SO MANY options now for cute, sustainable, reusable, travel friendly bottles you can fill from home and take with you. Did you know even most airports have a water bottle filling station near the gates so you can take an empty bottle through security then fill up before you get on the plane. They make it so easy, I don't understand why people continue to pay upwards of $5 per bottle from the "News Stand" stores in the airport.
Milton makes these great water bottles that are BPA Free and even recyclable. They don't have an internal straw (those get gross real fast) and even have a nifty lanyard so you can loop them onto your luggage, your workout bag, wherever needed. I recommended getting more than 1, like this 3-pack, so you always have a clean one available. You might keep 1 on your nightstand, one on your desk and another by your purse so you are always reminded to fill it up and use it!
There are so many options for clean, safe water at home, including water delivery service in 5 gallon jugs (we did this for a long time) that are recycled and reused, a simple Brita filter, or a Kangen water system (what we use and love now). Don't risk your families health with toxic plastic leaching, environment killing plastic.
Concentrated Cleaning Products
Forget buying individual cleaning products that are mostly just water and in harmful plastic spray bottles. Make the switch to re-usable glass spray bottles with concentrated products you mix with water yourself to save money and the planet.
Grove Collaborative makes this super easy with their line of cleaning products that even come in small recyclable packages. Sign up for their VIP membership Free Trial today and get a free earth friendly starter kit with an awesome Glass spray bottle, a sampling of cleaning concentrates, their walnut scrubber and cleaning caddy with your first $20 purchase!
Save your kitchen scraps
Starting a garden right on your kitchen counter is a great way to save money and grow your own food. Did you know you can start a healthy, sustainable garden entirely from your kitchen scraps?
Check out my post on Regrowing your own food from Kitchen scraps to see how super easy it is to propagate and grow food right from water.
Choose Seedling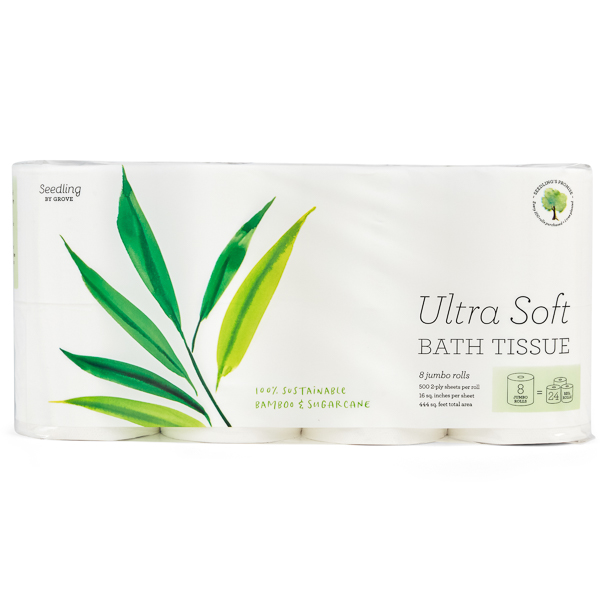 Ok so going entirely green is not super feasible for every household..yet. But thankfully for household paper products that just don't have a good alternative there's now a greener option!
With Seedling from Grove Collaborate you can feel good about using toilet paper NOT made from trees. This stuff is made from sustainable bamboo and sugarcane. They have so much more than Toilet Paper too. I just love that every roll sold goes towards reforestation efforts in the United States.
Did you know Bamboo grows so rapidly it is ready for harvest in a little as 3 months? Compare that to the typical 20 years it takes for trees farmed for paper products. Not to mention bamboo absorbs 5x as much CO2 as trees so it helps the environment as its grown!
You may not implement all of these right away or at the same time, but that's ok! I think it took me a year to slowly swap out everything I mentioned to a greener alternative. But little by little, you an get there and feel great about doing it!
Cheers for a greener, healthier home and planet!
xoxo
Christi
WE ARE A PARTICIPANT IN THE AMAZON SERVICES LLC ASSOCIATES PROGRAM, AN AFFILIATE ADVERTISING PROGRAM DESIGNED TO PROVIDE A MEANS FOR US TO EARN FEES BY LINKING TO AMAZON.COM AND AFFILIATED SITES.