Disclosure: This post contains Affiliate Links, meaning if you click a link and purchase a product from that link, I may earn a small commission at no additional cost to you. Please check out my Disclosure Policy for more details.
Is your plain and boring (maybe dirty?) front porch dragging down your curb appeal and scaring away guests?
Most people get caught in their day to day routines entering and exiting their home via the garage because.. well that's where our mode of transplantation lives! But that is NO excuse for a drab front porch that looks like it hasn't been given some love or attention, well, ever.
But here's the thing, even though it MAY be out of sight, out of mind for YOU, its the very FIRST thing your guests see and sets the tone for your home in general.
So I've scoured my own personal favorite DIYs for curb appeal and picked out my top 5 projects that you can implement in a weekend to create a stunning, full of character, welcoming front porch that will radiate curb appeal all the way from the street. You can do this!!
1. House numbers with flowers
Don't you just hate when your going to someone's house for the first time and you can't find the house number?! I totally do.. but I also have trust issues with my GPS..LOL
Welcome new guests to your home with this beautiful, easy to spot house number sign, complete with accent flowers to grab your guests' attention.
Carrie over at Lovelyetc. posted these incredibly easy to follow DIY instructions to make this beautiful house number sign, perfect for the novice weekend warrior.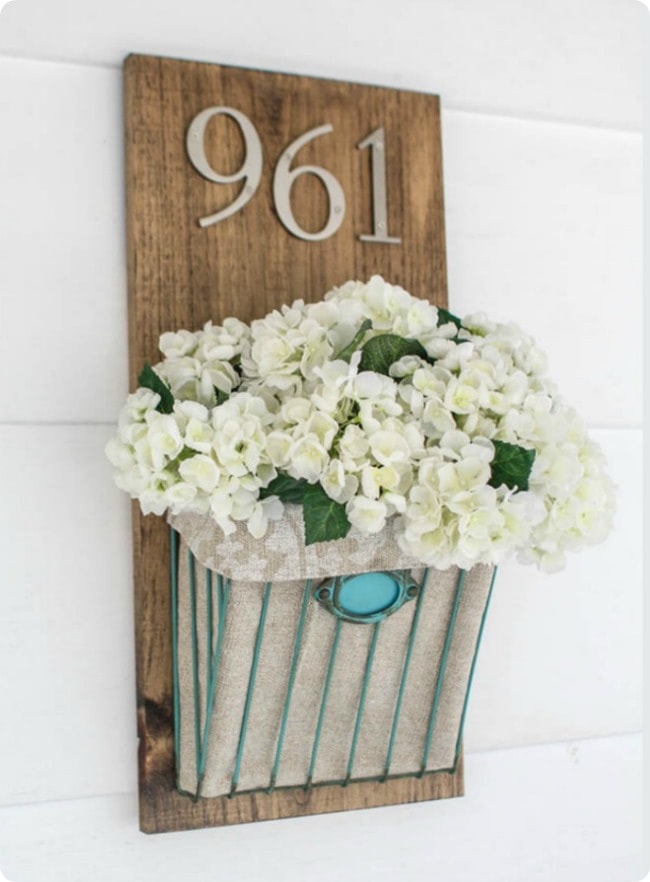 2. Painted doormat
A doormat is a simple thing, but it sets the tone for your home as guests await entering your abode. Be sure it makes a statement about your style!
Stylish doormats can get pricey, but thankfully there's a DIY for that!!
Jessica Probus has these incredibly easy to follow clips on Buzfeed that show you exactly how easy it is to take a plain old doormat to FABULOUS! And you don't have to be crazy creative to do it! Just grab some masking tape and go crazy! Even simply stripes and bright colors will make a huge difference.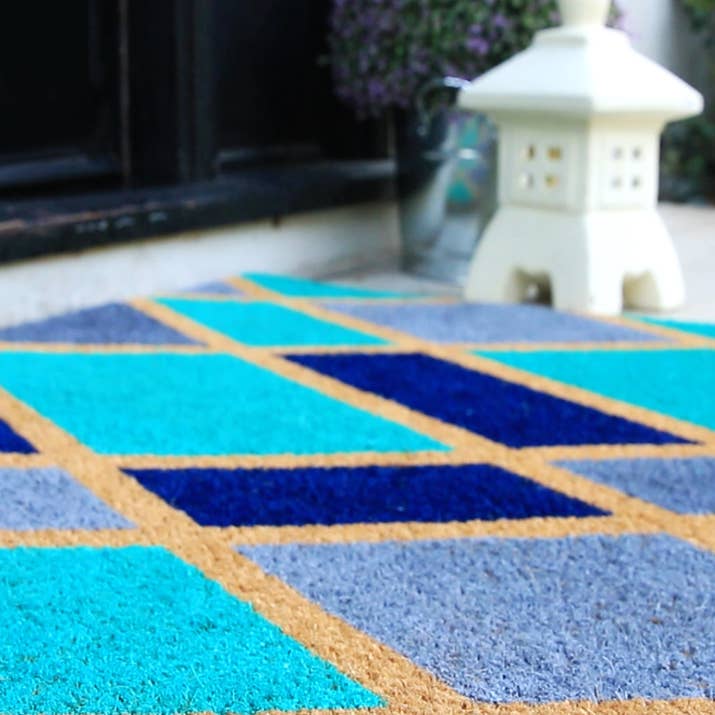 3.  A set of planters
Framing the front door with a set of big matching planters adds beautiful greenery to your entryway that can be seen from the street, thus adding curb appeal.
This DIY tutorial by Kate at Centsational Style is simple, yet beautiful. And she leaves plenty of room for personality and creativity. You could stain the planters with a beautiful natural wood color that enhance your color scheme, or go with a bright beautiful paint color that calls attention from the curb!
As you can see in the post, possibilities for WHAT to plant in these babies is endless. I love that she did Dwarf Meyer Lemon trees making this not only beautiful, but FUNCTIONAL! You could also do Rosemary or Lavender for a heavenly scent that deters pesky bugs from trying to enter your home.
4. Rustic welcome sign
Let your guests know you appreciate their company with a lovely Welcome sign!
April has very short and sweet instructions for creating your own over at House by Hoff.
You might even be pleased to find you have DIY leftovers that will do the trick and not have to spend a dime on this super simple DIY decor piece.
Not cool with putting nails in your exterior walls? No problem, there are so many other options. You could use a larger board and just prop the sign up on the ground and let it rest against the house, or you could put it IN a planter or on a pretty stained crate.
It also doesn't HAVE to say Welcome of course.. I love the alernate "Home Sweet Home" too!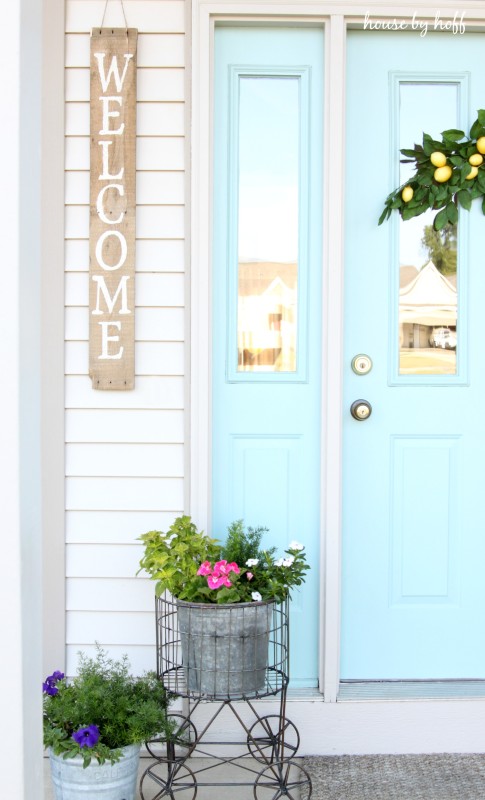 5. Hang a wreath on the door
Calling captain obvious! I know, this one is nothing new or especially unique, but you would be surprise how many ONLY do wreaths on the holidays.. You can do SO MUCH MORE!
I love this one for a great year-round look. With a few items from the craft store and these DIY instructions by Sarah over at Little Vintage Nest you can have a gorgeous front door wreath that is unique and fabulous!
You could also put your family initial on the wreath instead of "hi", this also helps your guests know they are in the right place (or wrong place – lol).
So there you have it! Even just 1 of these DIYs a weekend will give your front porch a whole new vibe in just over a month!
Did I mention a beautiful, inviting front porch is excellent Feng Shui? It is.. it totally is. Usher in that positive energy to your home and family!!
What is your favorite thing about YOUR front porch? Mine is an awesome burlap pineapple flag that welcomes my guests to my coastal themed home lol!
xoxo, Christi 
WE ARE A PARTICIPANT IN THE AMAZON SERVICES LLC ASSOCIATES PROGRAM, AN AFFILIATE ADVERTISING PROGRAM DESIGNED TO PROVIDE A MEANS FOR US TO EARN FEES BY LINKING TO AMAZON.COM AND AFFILIATED SITES.