Disclosure: This post contains Affiliate Links, meaning if you click a link and purchase a product from that link, I may earn a small commission at no additional cost to you. Please check out my Disclosure Policy for more details.
Get the Farmhouse look  in your bathroom by implementing these "Fixer Upper" must haves for the perfect Farmhouse Bathroom!
Having trouble implementing the farmhouse style into your dream farmhouse bathroom? Give these 10 elements a try and see your bathroom take new rustic and fancy form. I LOVE these ideas for a small bathroom, powder room or even the guest bathroom. Something about the farmhouse style is just so inviting and cozy, your guests will LOVE it.
Earthy Color Pallet
Starting with the basics of Farmhouse style, choose a neutral and Earthy color pallet. Think plain white, soft beige, earthy or sable browns, or soft gray paint for your walls to get you started on the right path.
Natural Wood
It may seem counter intuitive to put natural wood into a bathroom where you would expect tile, glass and porcelain. But a touch of wood is essential to get the Farmhouse look. I adore this rustic wood double vanity with Farm style sink basins making the farmhouse bathroom beautifully rustic and functional.
Wicker Basket Storage
Another common theme in Farmhouse bathrooms is having additional storage in the form of a wicker basket or two under or beside the vanity. You can use this to store extra toilet paper, towels, or just fill them with pretty foliage for that farmhouse feel.
Something Green
Bring the outdoors in and incorporate a nice potted plant in the bathroom. Not only does the pop of green color look pretty and add to the cozy farmhouse feel, but it also is good Feng Shui! Plants are considered "wood" and will help to soak up all that water energy that can be excessive in the bathroom. If your bathroom doesn't have windows, consider a nice silk fake plant to get your touch of green or a couple sprays of cotton or lavender in a vase.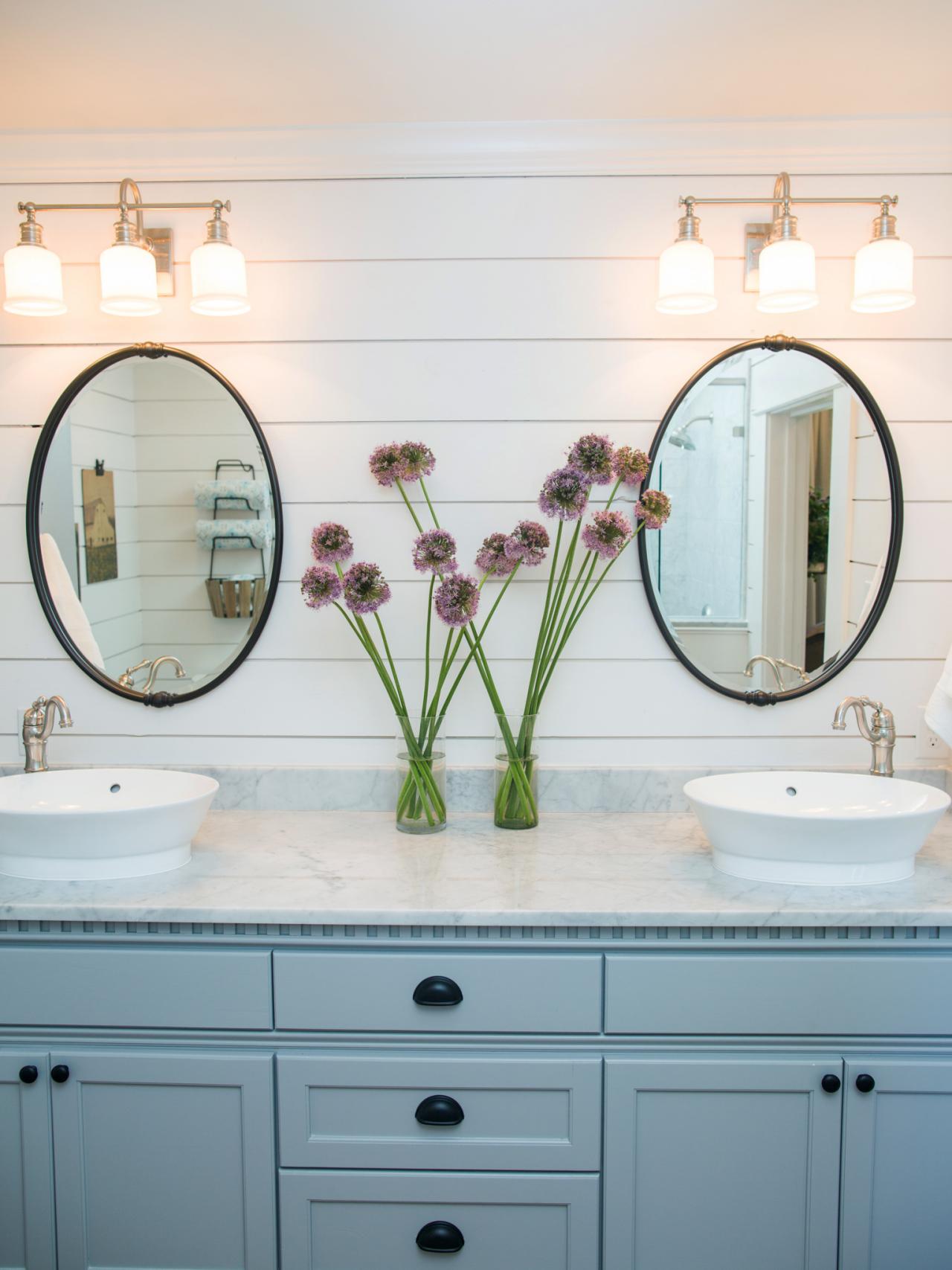 Rustic Mirror
Toss out that boring square mirror and replace it with something unique and preferably rustic. Antique stores and flea markets are great places to find unique mirrors that will look great in any farmhouse bathroom.
Simple Stripes
Incorporating textiles with simple stripes is another great way to add farmhouse style into any room, but is especially easy in the bathroom. You can do this by simply changing out your hand drying towel or adding a simple striped rug in neutral farmhouse colors (like white, beige, brown, blue, or black).
Wrought Iron Lighting
Changing out your lighting is a super easy way to add farmhouse style to your bathroom. Anything iron or brass can be made to look rustic. I especially love a simple Iron and white bell curve pendant like this one for a farmhouse bathroom.
Shiplap
No Farmhouse bathroom would be complete without shiplap!! You don't have to go floor to ceiling with it, but an accent wall or vanity backsplash of white shiplap like this one would make the room oh so farmhouse and definitely "Fixer Upper" inspired!
And there you have it! Consider these 8 must haves when designing your new farmhouse bathroom and your sure the nail the "Fixer Upper" look!!
xoxo, Christi
Love Farmhouse Style??
Check out these posts to incorporate Farmhouse style into other rooms in your home!
WE ARE A PARTICIPANT IN THE AMAZON SERVICES LLC ASSOCIATES PROGRAM, AN AFFILIATE ADVERTISING PROGRAM DESIGNED TO PROVIDE A MEANS FOR US TO EARN FEES BY LINKING TO AMAZON.COM AND AFFILIATED SITES.