Disclosure: This post contains Affiliate Links, meaning if you click a link and purchase a product from that link, I may earn a small commission at no additional cost to you. Please check out my Disclosure Policy for more details.
Today we are going on a trip through 9 amazing Dream Farmhouse Kitchen designs to get the inspirational juices flowing!
Everyone loves a brand new house, everything is fresh and clean and most often the buyer gets to pick their finishes for a somewhat personalized design.
But there is a BIG problem with new builds – there's NO character in their design! And the farmhouse style is all about the charm and history behind a rustic old piece that looks like its been there forever. Everything tells a story..
So how do you create character in your cookie cutter kitchen design when you go to remodel?
Here are 9 carefully curated inspirational farmhouse kitchen designs with the perfect farmhouse style while remaining functional and suitable for the chef in your family.
Notice each kitchen has a distinct character to it that can be incorporated into YOUR future kitchen design to make a fabulous, chalk full of character, Chef-worthy, Farmhouse kitchen!
1. All the subway tiles and shiplap
Ahh the timelessness of white subway tiles.. you really can't go wrong with these. Not only are they seriously budget friendly, but they NEVER go out of style. Did I mention easy to clean? WIN!
I am DYING over this adorable use of shiplap around the island.. like seriously, why haven't I thought of this? Its such a wonderfully easy way to add character! I bet you the cross accent on the sides of this island was a DIY too 😉 Don't get me started on the bench seat.. or do.. we will cover those in #7.
2. Size matters!… and so do wood accents
The sheer massiveness of this kitchen got me. For most families, the kitchen is the heartbeat of the home and where everyone ends up congregating – usually because there is delicious food involved.. or because we LOVE the chef..but mostly its the food, you know its true..
That incredible wood hood draws your eyes to the back and in the peripheral the wood cabinets and accented barnwood wall tie the look together while keeping the kitchen bright and airy feeling.
3. Modern with a splash of rustic
This small but mighty kitchen is just gorgeous and simple. I love how the rattan window treatment catches your eye, then BAM the wood backing to the hi-low counter top takes this kitchen out of modern into the farmhouse territory. Not to mention sturdy for any feisty toes sitting at the beautiful rustic counter height chairs.
Then with the light gray wall paint and little pop of color by the fruit bowl the personality of the kitchen takes form. I could totally see this in my future beach condo 😉 (someday…)
4. Something wicker, something green
I'm seriously in love the wicker chairs.. I must have them. They are big enough to have a nice warm impact on this otherwise white kitchen, and I love that.
Check out the adorable live bunches of greenery the centerpiece for the island, again, adding color! You could easily swap these out for whatever you have growing in your garden or cheat with the live bunches of herbs you can get at the grocery store. I do this ALOT with Basil.
Kitchens tend to be heavy on the metal influence with everyone doing stainless steel, so bringing in some green is a great way to break up the space and anchor it with some calm energy.
5. Brick, glass and minty class
Oh this beauty is definitely going to have major influence on my future someday beach house! Anyone else?
The brick arch is straight stunning and sets the tone for when you walk into this kitchen. Everything looks like it tells a story, this place is just oozing with character.
The matching bench seat, chair and glass pendants bring in that minty pop that takes the traditional brick and white tile backsplash and spins it into a fresh and cool farmhouse look (okay with some coastal flair).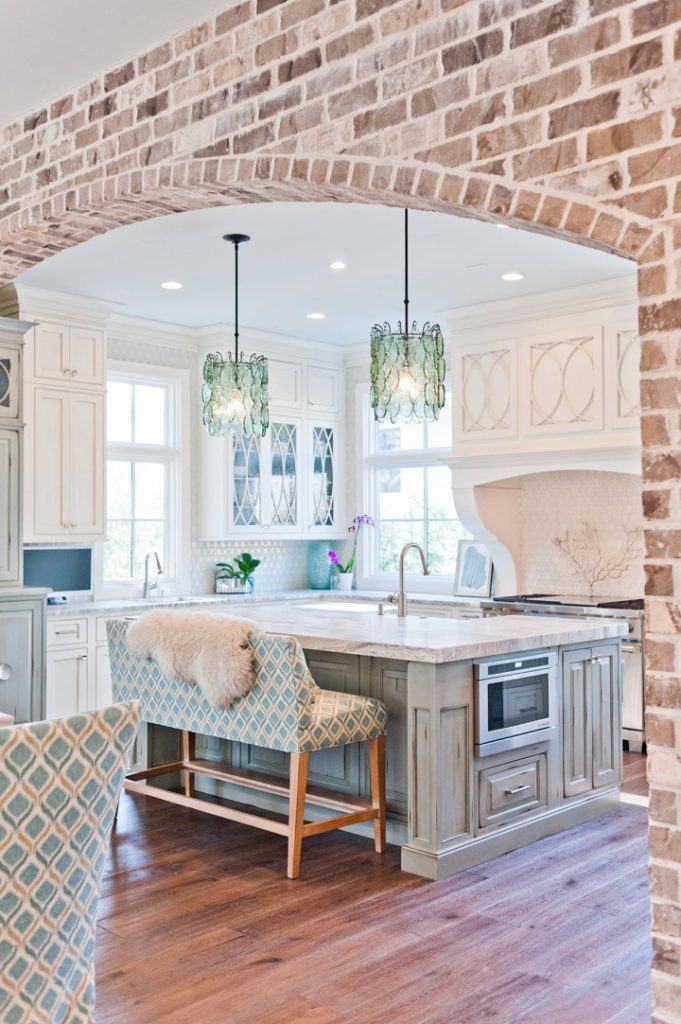 6. Hello there shiplap and rustic beams
I seriously can't take my eyes off that amazing tray ceiling..
Shiplap, rustic beams, AND a white subway tile backsplash – this kitchen hits the farmhouse trifecta all while remaining modern and classy.
I love that they added seating to the sides of the island as well, so you could comfortable fit 5 (probably 7) around the island while your meal prepping.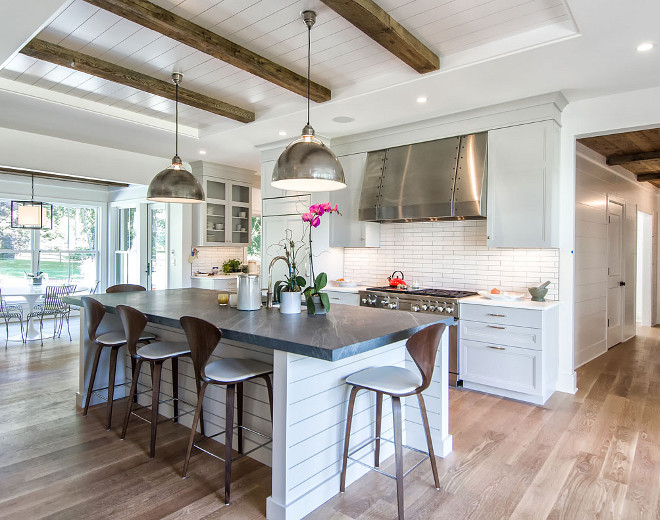 7. Bench sitting is the bees knees.
Ok, so I love a lot of things, but seriously.. this bench seating hits the mark. I can just picture 6 little bottoms of the kids, their friends and cousins all sitting and snacking on an afternoon sundae treat during a summer visit.
This DIY by Simply Kierste is LITERALLY next on the list for my hubs to do list! I just love the flexibility bench seating gives you. Not to mention I love the rustic authenticity these bring to the kitchen, because lets face it, there is not a ton of things you can DIY in a kitchen – other than backsplash and cabinet painting. I dont know anyone who's built a stove..
8. Charming but practical butcher block counters
Butcher block counter tops and an over-sized white tub sink just screams farmhouse in the best way. SO functional and aesthetically pleasing, it is really hard to go wrong here.
Add in the glass door cabinets and open shelving and this is as farmhouse as it gets. But I LOVE how well done and clean it is! Everything clearly has a place and a purpose.
9. Dare to be bold with color
What is not to love about this stunning kitchen! The navy bottom cabinets with the white counters and uppers give this look a bold contemporary yet timeless edge, and then that wooden hood and open wood shelving to the right  make just a little bit country.
True to farmhouse form and Joanna Gaines style of course there are subway tiles and even a hint of brick to complete the look and give this modern farmhouse kitchen uber character.. Ahh that Jojo is my spirit animal 😉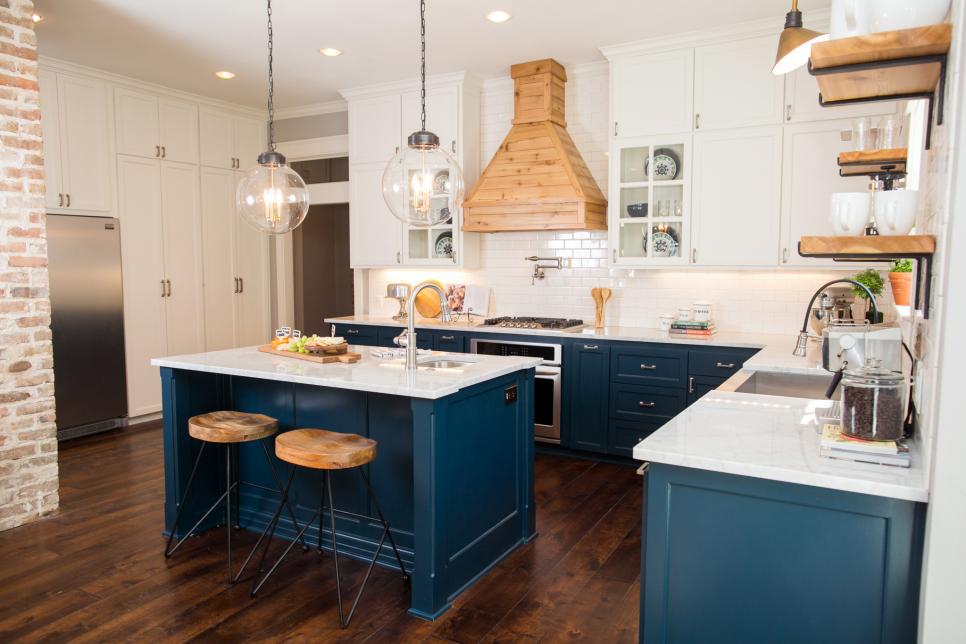 I hope you enjoyed these incredibly dreamy Farmhouse Kitchens! Maybe inspired? Motivated? Off in dreamland thinking about your someday new kitchen remodel? I know I am!!!
Okay.. so maybe a remodel is not in your immediate future (or mine).. so in the meantime, hang this little beauty to bring in the "farm" and keep ya dreaming of that day!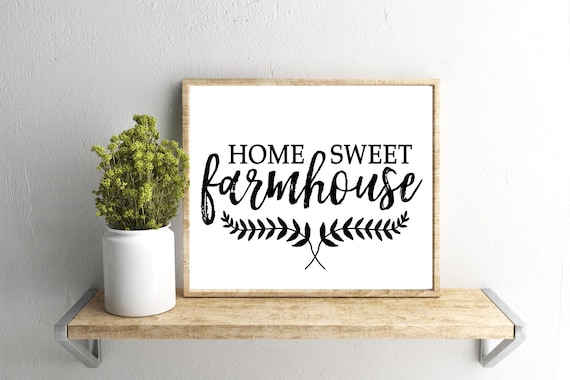 What is your dream kitchen??
xoxo, Christi
Love Farmhouse Style??
Check out these posts to incorporate Farmhouse style into other rooms in your home!
WE ARE A PARTICIPANT IN THE AMAZON SERVICES LLC ASSOCIATES PROGRAM, AN AFFILIATE ADVERTISING PROGRAM DESIGNED TO PROVIDE A MEANS FOR US TO EARN FEES BY LINKING TO AMAZON.COM AND AFFILIATED SITES.