Disclosure: This post contains Affiliate Links, meaning if you click a link and purchase a product from that link, I may earn a small commission at no additional cost to you. Please check out my Disclosure Policy for more details.
Learn ways to invite and enhance positive energy in your home to create a more balanced, joyful and peaceful place to live by implementing these 6 easy home decor and Feng Shui ideas.
What is Home to you?

Home is where you sleep
A place to inspire rest, relaxation and rejuvenation so you can be your best self during the day.
Home is where you prepare and eat meals
A place prepare meals for nourishment to your body, and yes even sometimes for entertainment and happy occasions where we gather and eat – like the holidays.
Home is where you unwind and enjoy
This should be the place where we want to exist during non-working hours.
Whether it's vegging out on the couch going to town on a box of Oreos and binge-watching the latest on Hulu and Netflix (just me?); relaxing with a glass of wine on the patio; or whatever it is you do at home to unwind and enjoy those non-working moments of pure freedom.
Home is where you live
For many, Home is where life happens. This is where we build relationships, raise our children, bond with our pets, celebrate our life's milestones and make memories.
Are you catching my drift here?
We get stuck in this day to day rhythm of life that we often fail to see the beauty and honor the value our home brings to our quality of life and the impact it really has.
This is why it is so important for Home to be most positive place in the world to you.
Creating a positive space
Inviting positive energy into your home is more than thinking good thoughts and being a positive person in general.
Trust me.. My nickname at work is Poppy.. Poppy the troll is quite possibly my spirit animal – nothing gets her down (and she scrapbooks!)
See… all me right there! And I thought FOR SURE my home was in ship shape positive…
A personal story..
So a few years ago, when I had my first Feng Shui consultation with my mentor Sharyn Hathcock (The Home Whisperer), I went in a little cocky thinking my home was different, and amazing and already super positive and great… boy was I wrong!!
It was a bit of a reality check for me realizing not only how much I still had to learn being new to the craft, but realizing my Home could be doing SO MUCH MORE for me and my husband to make our lives better and help us achieve our goals and prepare for starting a family.
Now, looking back, if I had only known the amazing difference Feng Shui would make in our lives and in our relationship I would have done it SO MUCH sooner.
A fun analogy..
Its like a bad bra.. You think it's all fine and dandy. It holds up the girls and does its job… then one day, a BFF drags you into a store for an actual fitting and you put on that PERFECT amazing new bra and you suddenly can't bear to look at the old one that caused you so much pain.
With Feng Shui we can enhance the positive energy in your home that helps you relax, enjoy life, be inspired and dream.
So here's the deal, Feng Shui is very personalized both to spaces and to the energies of those that dwell in them. So I can't Feng Shui your home via this post.
BUT there are 6 home decor ideas I am going to explain that will help you invite that positive energy into your home in a general fashion, so that your intentions can become reality and you can start living your best life.
Because life, starts at Home.
6 Ways To Invite Positive Energy Into Your Home
Before we begin, if you have not already – go read AND do 3 Important Steps to Cleanse Your Home Before You Feng Shui.
The last thing you want to do is enhance any negative energy that may be chilling in your house.
Go clear it first so you can get the most out of these cures. Just do it ok? ok.. 🙂
And if your not familiar at all with Feng Shui, be sure to read my Beginners Guide to Feng Shui. 
Welcoming Entryway
Creating a welcoming entryway is the first step to inviting more positive energy into your Home.
When visitors come, its the first impression they are given to your home and sets the tone for their experience.
Make it a good one.
This includes the exterior AND interior around your front door.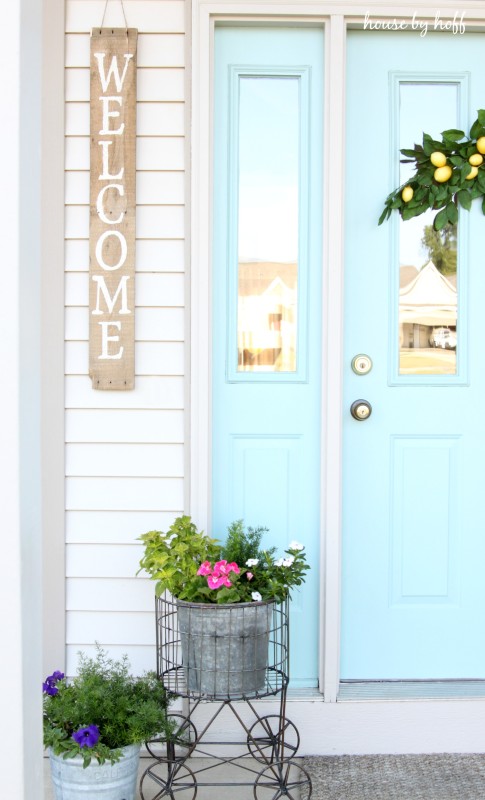 For your exterior entryway, or front patio, check out these 5 easy DIY projects you can do over a weekend. Adding things like a nice (clean) welcome mat, flowers or plants, and a comfy porch swing or chairs if you have the room all add to the welcoming experience for guests and energies alike.
On the interior, make sure your front entry way or foyer is clean and clear of clutter, and has nice visual appeal. Consider it a mini-showcase of how your home is decorated.
While the entryway welcomes your guests as the point of entry for your home, it also the point of entry for positive energy. So even if you don't have guests too often, you still want to ensure your front door is adorned and welcoming to any entity that may stop by.
Water Feature
Even before they were all the rage in the DIY world, water features have been a valuable asset to your home decor, helping to churn up energy to help eliminate stagnation and bring in abundance and change.
Depending on your homes' footprint a water feature or a fish tank is a great way to activate the water energy in a room. Great places for these are in the Southeastern corner for Abundance (aka – money),  in the East for Health and strengthening families, or in the North for Career. Avoid bedrooms. Period.
This indoor water feature from Amazon is GREAT for Feng Shui as it has different levels for the water to fall and splash and create movement and that peaceful trickling water sound.
An outdoor water feature near the front door that has water moving in the direction of the front door or all around like this one is great for attracting positive energy and wealth into the home. Be sure the water is not pointing out directly towards the street, then your money and luck is flowing outward instead of inward.
And if you want to DIY your water feature, this is an easy and effective circular DIY water feature that is perfect for the front courtyard or porch. Kim at Todayscreativelife shows you step by step what to buy and how to assemble it. The best part is this one only takes 15 minutes!!! Win!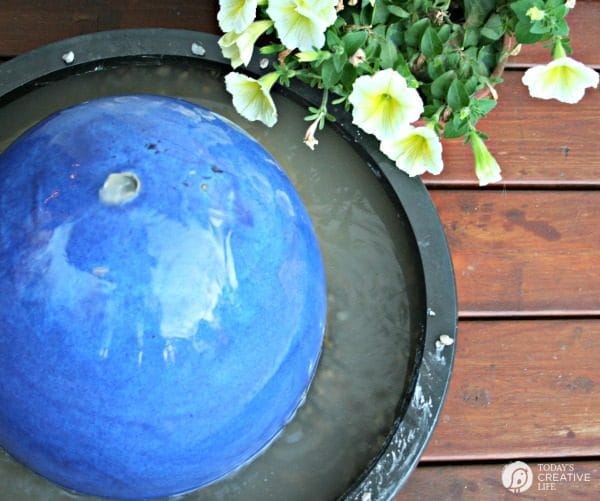 Lucky Bamboo Plants
Adding greenery to your space is a great way to enhance your Feng Shui. Lucky Bamboo or an Auspicious Jade plant are awesome choices and fairly easy to care for.
Places like bathrooms or the kitchen are great choices for Bamboo plants as they are considered wood elements and will help to absorb any excess water energy that these areas (with sinks, tubs, and showers) typically have, creating a more balanced energy in the room.
You could alternatively go for a Money Tree plant to aid in the abundance department. Make sure its a full size plant, and NOT a mini Bonsai (those are technically dwarfed plants intentionally kept small, and we don't want to "dwarf" your abundance!).
For other easy indoor plants that will add green to your home, check this post out!
Himalayan Salt Lamps
Himalayan Salt Lamps are a fantastic way to bring positive, healing earth energy into the home.
The ambiance of the warm pink glow has a calming effect, and the salt itself as its warmed up by the lamp releases negative ions into the air, helping to reduce pollutants and neutralize harmful electromagnetic energy.
The Living Room and Bedrooms are great places for salt lamps. For the bedroom, I like to have 2, one on each nightstand for the best effect.
Kangen Water Machine
There are many healing benefits of drinking micro-clustered Alkaline water and experiencing real hydration, but Kangen water can impact the energy of your home too!
The healing water energy that an SD-501 Kangen Water machine emits in your kitchen and home can help balance the space and offset the heavy fire, metal and wood elements that tend to be predominant in the kitchen (like the stove, oven, and cabinets).
Also, the practice of cleaning your home with the Sanitary Strong Acid water setting helps you keep a healthier, cleaner home, free of chemicals. And as we discussed in 3 Important Steps to Cleanse Your Home Before You Feng Shui, a clean home is the first step in ensuring good Feng Shui and positive energy flow throughout the home.
Want to learn more about Kangen water? Check out my short demo video! Then let me know if you have any questions! I am an Enagic International Distributor, after all 😉
Diffuse Essential Oils
With essential oils you can uplift the energy in the home with a pleasant and fresh aromatic scent, I particularly like to diffuse citruses like lemon or Tangerine. Essential oils can also help cleanse the air and purify the lungs when members of the household have a cold. Diffusing Lavender can help relax the air and help you fall asleep (one of my favorites for bedtime).
Diffusing essential oils can have an instant impact on your mood and emotional state. I have been a long time user of essential oils to cure bug bites, burns, ease an upset stomach and even for my baking, but I only recently finally purchased a diffuser and started benefiting from essential oils in my home's air.
Melaleuca, a wellness shopping club brand famous for its high quality, eco-friendly products. They carry a wide variety of essential oils and some amazing blends. My favorite lately, is "Lighten" which literally lightens the mood and helps me de-stress after a rough day.
You do have to be a member to shop, which I am, but the savings and opportunities are TOTALLY worth it! You can check out more information about Melaleuca here and feel free to contact me with any questions!
Home is where you want to be
Home should be a place of peace and positivity.
A retreat from stress and a haven that heals you, welcomes you and wraps its arms around you and says "your safe".
By implementing even 1 or 2 of these recommendations, you will be able to feel a positive shift in your homes energy and start benefiting from that GOOD Feng Shui energy.
Even if you aren't a believer in the auspicious, these tips will still enhance the beauty, health and even the smell of your home!
xoxo, Christi
WE ARE A PARTICIPANT IN THE AMAZON SERVICES LLC ASSOCIATES PROGRAM, AN AFFILIATE ADVERTISING PROGRAM DESIGNED TO PROVIDE A MEANS FOR US TO EARN FEES BY LINKING TO AMAZON.COM AND AFFILIATED SITES.