Rustic Farmhouse living room ideas you can easily incorporate into your decor. You may already have some of these items, can DIY them over a weekend or purchase what you want to create the ultimate farmhouse style living room for your home.
Its no secret that the rustic farmhouse decor is super popular lately with all the farmhouse inspired designs all over TV and the internet.
With a single focal piece that is rustic in nature you can create a look that is truly unique and timeless. For example, a beautiful piece of driftwood or a weathered piece of furniture, coupled with simplistic and neutral colors and design.
I love rustic farmhouse living room decor because it has the ability to bridge so many conflicting styles together.
There is something about the originality of the rustic farmhouse look that takes us back to our roots and is ultra grounding. You can't help but relax, feel at home and fall in love..
But how do I get the Farmhouse look without, you know, living in a rustic farmhouse?
I mean, too much rustic and you feel like your in a hunting lodge worthy of flannel tops and animal heads. Too little and you could be looking at a lifeless, cold, sterile case on your hands.
The key is balance.
You want to find just 1 main piece that anchors the room, then accentuate it with little things that bridge the modern glam to the cozy barn.
I've narrowed down the list for you because lets face it, 57 ideas will only leave your head spinning. Also if you go a little cray cray on the implementation your no longer rustic farmhouse.. your just straight up living in a barn. Which is cool if that's your thing..
So here are 9 things you can easily add to your living room to up your rustic farmhouse game and make it look like you've got connections to Magnolia Farms if you know what I'm sayin *wink wink* *nudge nudge*
The best part?
You probably already have some of these things… lying around the house or in storage, you just need to re-purpose them the right way! A quick weekend DIY job can turn something you already have into what you need to pull off this look!
…Except maybe the clock.. because frankly I don't know anyone that has a massive clock just hanging out.. I'm getting ahead of myself though.. Let us begin!
9 Rustic Farmhouse Living Room Ideas to Inspire Your Decor
1. The Gigantuous clock
Ok, yep I made that word up.. because this is a big friggin clock.
But its straight awesome.
I need one in my life. 
The good news is they are pretty wide in variety and very easy to come by.
There's your classic barnwood clock, quintessential shiplap, old looking distressed, Roman Numeral, dark iron, plenty of options to fit your specific motif.
And they are pretty easy to find online or any home store like Kirklands (like the one pictured above).
You can definitely DIY this one too if you so choose. Clover Lane Blog has a great tutorial on making a giant clock from a mechanical spool so you don't even have to cut the wood!
2. A Boxwood wreath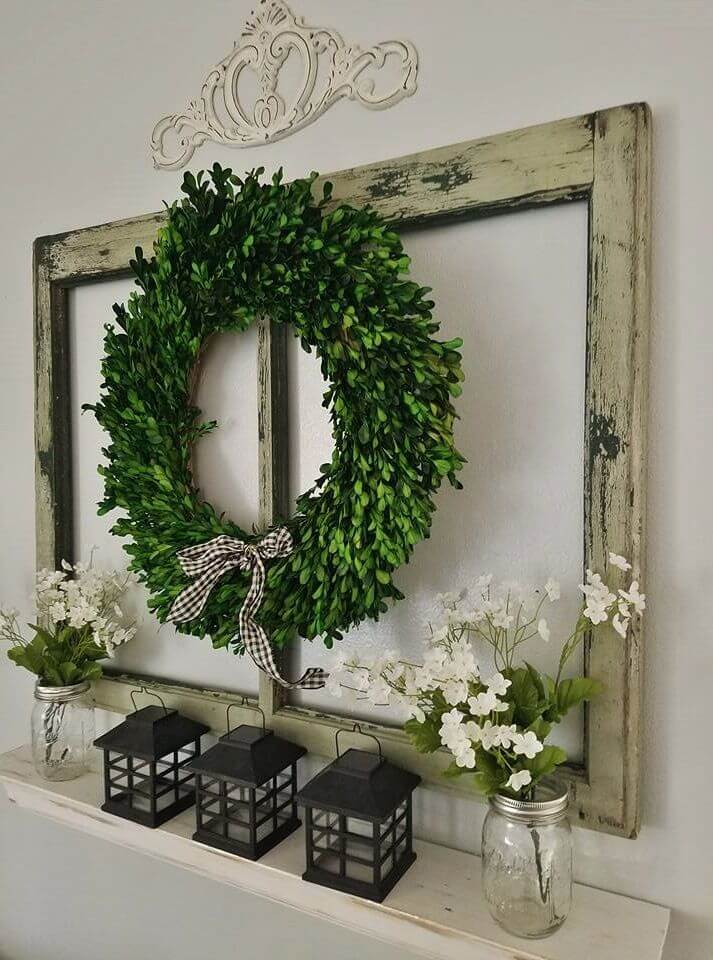 I personally feel every home needs a wreath of some sort, somewhere in the general living space.
Or if close by and visible from the living room, the front door is the ideal place for a wreath to help usher in positive energy! It also helps set the tone for the rustic atmosphere.
In terms of bringing in the rustic look, boxwood has a bright and vibrant green color to it that is just beautiful  (Magnolia leaves are great too!) and you can simply add ribbon to it in your room's color pallet to tie it in, or swap it around for the different holidays.
You can take it a step further and anchor it to a recycled window if your looking to fill up some wall space. According to Makingitinthemountains you can do this for less than $15 – wow! I've also seen these at the craft store in the floral department.
3. Linen couch
This one is a must!
A linen/white/beige all around neutral light colored couch is essentially a blank canvas! You can literally change the entire feel of your room by swapping out pillow covers and a throw!
For example, say your style is more rustic boho beachy, you could do Mint and Blue pillows and a matching throw blanket for a totally different look.
Holidays? Easy – Add Red pillows and a cozy red flannel throw for a "merry" time.
You just can't go wrong with this color for a piece that takes up as much real estate in your living room as the couch.
Worried about kids or pets cramping the crispy white beauty? Or not ready to throw down on new furniture? Use a slipcover (like The Mountain View Home did!), you can pull it off and throw it in the wash easy peasy.
4. Burlap pillows
Super simple and cheap to buy or make, a couple burlap pillows will really drive your rustic chic look home!
I recently had to buy 4 yards of burlap for a project and with the usually available JoAnns 40% off coupon, I spent less than $5!
Pillow forms are also pretty inexpensive and you can get any shape or size you need at the fabric store, or cover your existing throw pillows.
The Diva of DIY – Leanne Lee has a great NO SEW tutorial available that is super easy to follow.
You can also just buy them at almost any home goods type store or online. I love the ones that also have rustic writing on them, like "home sweet home" or your family name.
Not to mention burlap is also so neutral and durable!!
5. Quilts and Blankets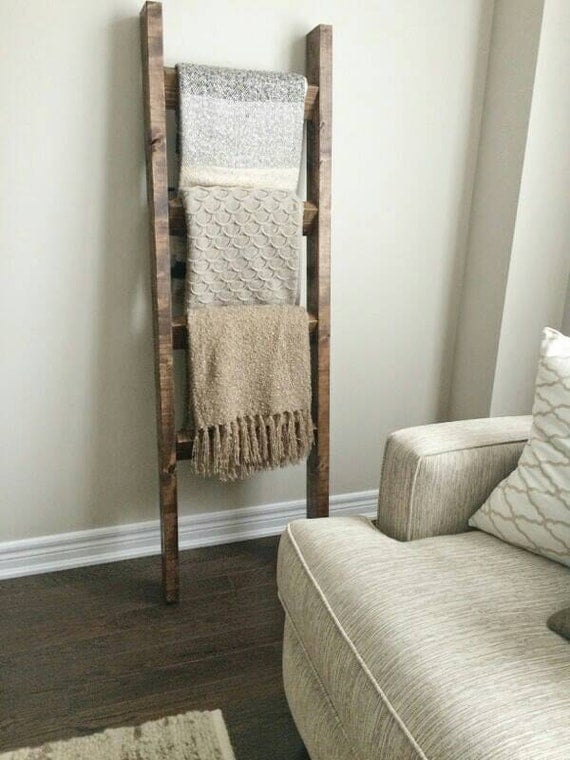 Seriously, who doesn't have a closet full of quilts from grandma?
And don't worry if you don't, quilts are pretty easy to find at bedding stores and are crazy discounted during the holidays too!
Soft and cozy quilts on display makes your space ultra-inviting. Like "come on in, get comfy while I put on a pot of coffee" kind of inviting.
The textures give a great visual break-up to a space and you can also use them to add little pops of color.
I adore these blanket ladders, so functional and yet, ALSO rustic! You can buy one from the PipeAndWoodDesigns Etsy shop, or make one using these plans at CherishedBliss.
Guess what my DIY project this weekend is going to be?!
6. Natural Wood Coffee Table
Okay, it wouldn't be farmhouse without some reclaimed barn wood looking furniture, amiright?
I love the thick, bold look of this one, however you could also make one if your exceptionally crafty, or if you have a handy hubs in need of a project 😉
You can find a plethora of plans on Ana White's site. I have 2 that my hubs has built, they were done in a day, inexpensive, and look amazing!
7. Edison Bulbs
Or "Tavern" Lighting as my hubs calls it.
There is something so romantic about the soft warm glow of the Edison bulb that just has a calming effect on any environment. After the hustle and bustle and usually grueling florescent lights we are exposed to all day at offices, a little softness is well needed to help unwind.
While most newer constructions have eco-friendly LED can lights built into the ceilings, it's very easy to pop in a couple of Edison bulbs into a pretty chandelier or pendant that goes with your home, and voila – tavern mode!
These bulbs are like instant character if you have an otherwise cookie-cutter type home.
Wanna stay eco-friendly? They make "vintage style" LEDs now too that will only set you back 8 bucks a bulb or 25 if you need dim-able –  which is TOTALLY worth it IMHO!!
8. Chalkboard all the Things!!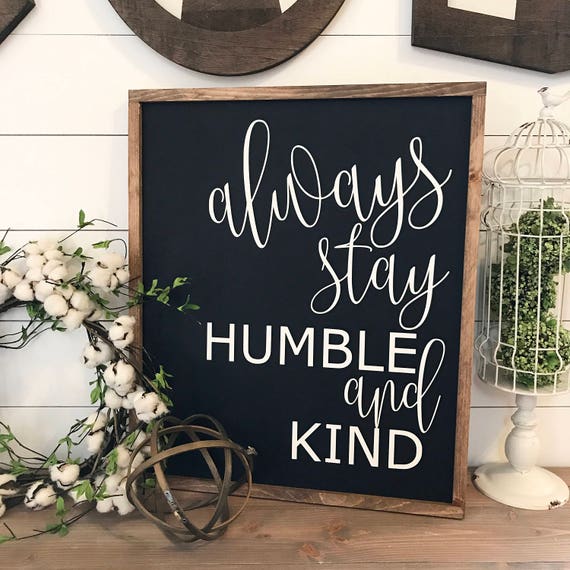 If Rustic Chic and farmhouse is what your going for, your gonna need some chalkboard.
The good news? This is probably the easiest one on the list to acquire.
Chalkboards in general (or cute pre-styled ones like the example photo) are super easy to find on online or at any craft store. You can also get yourself over to the craft or hardware store and get a pint of Chalkboard paint (or a can of spray paint) and DIY a chalkboard out of anything you have lying around!
I have done this with old glass jugs (you know the big gallon ones you can get your apple cider in come fall? CUTE!), scrap particle board, even an old surfboard to make a cute welcome sign!
Oh I should mention my hubbys tap handles in his outdoor man kitchen are old 2x2s that I spray painted with chalkboard paint! Now we just write out in chalk what's currently tapped.
Warning – the magic of turning things from drab to fab chalkboard is addictive! (And we're ok with that)
9. Big ole Candlesticks
Closing out with one of my favorites and actually the FIRST piece of decor I bought when we put the down payment on our dream house.
With these puppies I could envision my entire living area.
Crazy to inspire a room off some candlesticks right? Anywho.. The bigger the better!
Big chunky candlesticks are easy to DIY and very very easy to find at your local home store (Or just click here.. your welcome!).
Candlesticks add drama and ambiance with ease and even a lovely scent if you favor the flavored candles.
Hmm.. I've got an Alpine Cedar candle going right now.. mmm… smells like a cabin in the woods.. Anywho..
YES Candlesticks.. you NEED them!
Pro tip: They make amazing and inexpensive housewarming gifts
Now go forth and get Rusty
I mean, not literally rusty.. that would be bad.. Like get your "rustic on".. hmm I'm gonna have to work on that slogan..
xoxo, Christi

Love Farmhouse Style??
Check out these posts to incorporate Farmhouse style into other rooms in your home!